Judith Gottlieb, better known as Principal Gottlieb, is principal of the school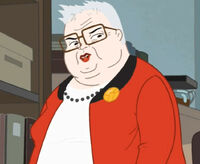 Allen Gregory has a crush on Principal Gottlieb and thinks the feeling is mutual. It turns out that she is actually married to the school counselor. In 1 Night in Gottlieb, After being continuosly bothered by Allen Gregory she hits him across the face, causing him to have a bruised eye. Fearing for her job she agrees to have a date with him providing that she doesn't report the incident. On the date she seems to have no knowledge of dining out, asking the waiter to bring her a tray of food like at a cafeteria. During the date she seems to be attracted to Allen Gregory before her watch goes off indicating that she has to take her pills. When she opens her pill case she finds a note from her husband, causing her to feel guilty and leave the restaurant. At the end Allen desides to say that his teacher hit her instead.
She is voiced by Renée Taylor
Ad blocker interference detected!
Wikia is a free-to-use site that makes money from advertising. We have a modified experience for viewers using ad blockers

Wikia is not accessible if you've made further modifications. Remove the custom ad blocker rule(s) and the page will load as expected.